Qixiang is the best Chineses organic Goji Berry Juice Concentrate company. We are manafactorer and supplier of Organic Wolfberry Juice concentrate. And we also can supply all of qualifications you need. Organic goji concentrate juice concentrate as a kind of fruit juice concentrate are good for your skin with much nutrition and help you lose weight with low calories and good taste.
Usually, the material for concentrate should be clear juice, yet Goji Juice is thick and turbid. According to the tests made by American and Japanese clients, 70% nutrients of Goji juice, especially mass active ingredients, are contained in pulp and pigment. So, be it juice or concentrate, turbid juice should be used.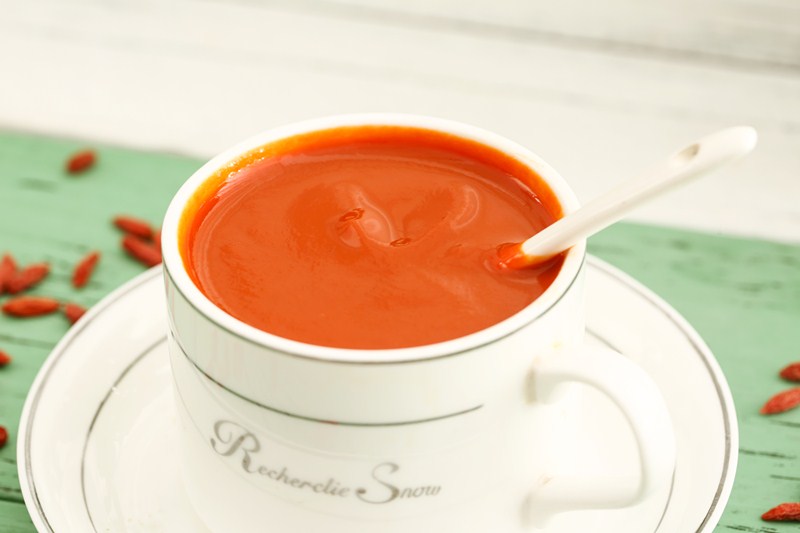 Appearance
1) Color: Red or deep red.
2)Taste & Odor: Fresh Goji Berry Juice concentrate taste and smell, no peculiar smell.
3) Histomorphology: Turbid liquid with pulp, allowing the pulp precipitation phenomenon after completely standing.
4) Impurity: No visible foreign impurities

Physics & Chemical Specification
1) Brix(%): ≥24.0
2) Total Acid(g/100mLas Citric Acid): ≥0.8
3) pH: 3.5-4.1

Microorganism Specification
1) TPC (CFU/mL): ≤100
2) Yeast (CFU/mL): ≤100
3) Mould (CFU/mL): ≤10
4) Coliform (CFU/mL): ≤10

Additive
NO

Country of Origin
ZHONGNING, NINGXIA, CHINA

Package
1) Inner package is 200kgs aseptic bag, outer package is opening steel drum.
2) Inner package is 25kgs aseptic bag, outer package is opening steel drum.

Storage
Should be stored at room temperature in clean, cool, dry warehouse, prevent sun, rain, and not be stored with corrosive, toxic, and smelly item. With these conditions, product shelf life is 18 months. (suggestion: 5-8℃).