Spray-drying technique is a drying process of obtaining powder products by the mean of dispersing raw materials into fog droplet in a nebulizer and let it contact with hot air (or other gases) directly. Vaporizing the moisture in materials generally can be classified into constant speed drying phase and decelerating drying phase, and every phase remains a short time for the fog droplet is relatively small.
The following is the producing process of Spray-drying Goji Powder. The first to press goji fresh fuit or dried fruit into goji emulsion, and then drop the materials into the bactericidal can for pre-sterilization. The second, transport the materials into the nebulizer, on the top of the desiccator, to atomize the materials into fog droplet, and at the same time, transport the fresh air into the top of the desiccator through the filter, air heater and air distributor by the air-blower to contact, mixing with the fog droplet, and let them to take place heat and mass transfer, which is also known as drying. At last, the dried goji powder will be brought out from the bottom of the desiccator, and the waste gas with dust will be exhausted into the atmosphere through the cyclone by the induced draft fan.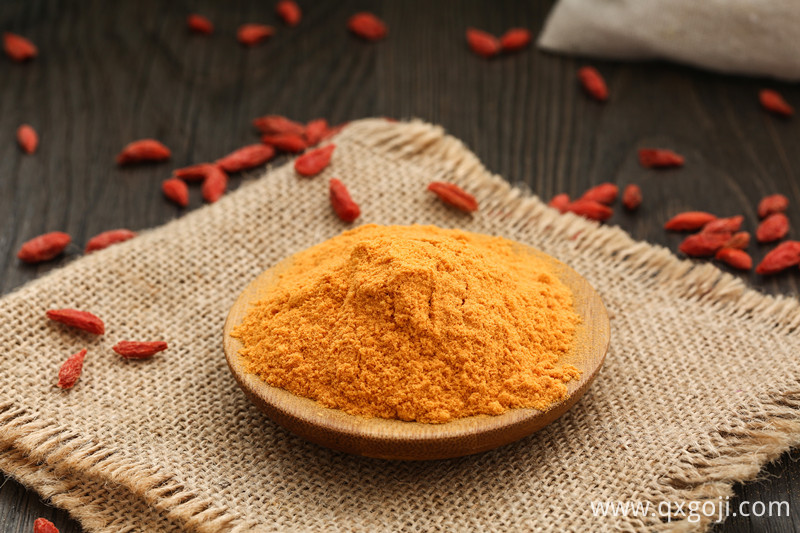 Appearance
1) Color: Orange-yellow or orange color powder.
2)Taste & Odor: No Peculiar Smells.
3) Impurity: No visible foreign impurities

Physics & Chemical Specification
1) Moisture(%): ≤8.0
2) Total Sugar(% As glucose): ≥30.0

Microorganism Specification
1) TPC (CFU/g): ≤30000
2) Mould (CFU/g): ≤50
3) Coliform (CFU/g): ≤40
4) Staphylococcus Aureus (CFU/g): ND
5) Salmonella (CFU/g): ND
6) Shigella (CFU/g) (CFU/g): ND

Country of Origin
ZHONGNING, NINGXIA, CHINA

Package
5kg in aseptic bag, and two bags per paper carton.

Storage
Should be stored at room temperature in clean, cool, dry warehouse, prevent sun, rain, and not be stored with corrosive, toxic, and smelly item. With these conditions, product shelf life is 18 months. (suggestion: 5-8℃).