Most of our products are made from our Organic Goji Berry Juice. That's why we are the only company can produce organic Goji Berry Juice Concentrate. We can control all the process lines from planting the goji berry fruit, picking up the fruit to producing the Goji Juice. Since 1997, we have changed our equipment for 4 times. We always keep the latest production ideas, strive to bring the most perfect products to our customers.
By comparing major nutrients of goji raw juice and Goji Juice Concentrate, we found that the nutrients of Goji juice concentrate are 3 times of Goji juice. The technique is scientific and quality stable and nutrients and active ingredients in particular do not lose. From the production and sales in the past two years, the shelf life can be as long as 18 months and products conform to clients` requirements. It is cost-saving for producing Goji Powder or other uses. By adding 2 times of pure water and after high pressure and homogenization, it can be restored to the original state.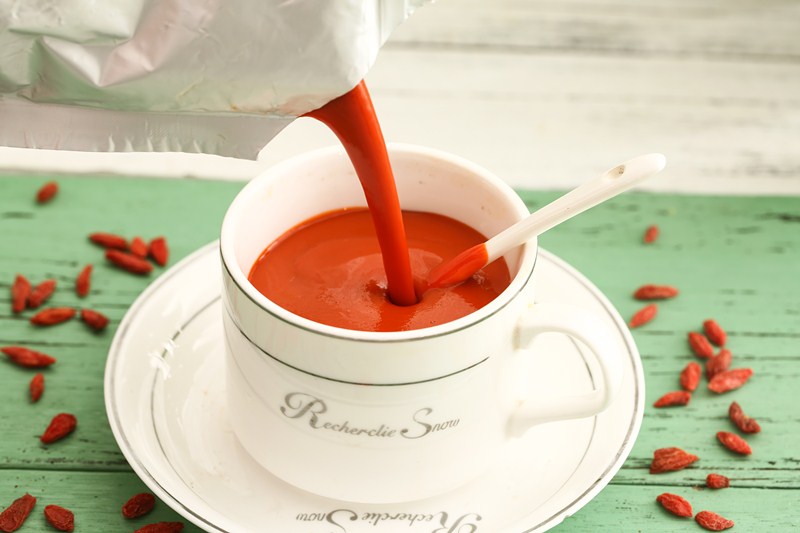 Appearance
1) Color: Red or deep red.
2) Taste & Odor: Fresh Goji Berry Juice concentrate taste and smell, no peculiar smell.
3) Histomorphology: Turbid liquid with pulp, allowing the pulp precipitation phenomenon after completely standing.
4) Impurity: No visible foreign impurities

Physics & Chemical Specification
1) Brix(%): ≥36.0
2) Total Acid(g/100mLas Citric Acid): ≥0.8
3) pH: 3.5-4.1

Microorganism Specification
1) TPC (CFU/mL): ≤100
2) Yeast (CFU/mL): ≤100
3) Mould (CFU/mL): ≤10
4) Coliform (CFU/mL): ≤10

Additive
NO

Country of Origin
ZHONGNING, NINGXIA, CHINA

Package
1) Inner package is 200kgs aseptic bag, outer package is opening steel drum.
2) Inner package is 25kgs aseptic bag, outer package is opening steel drum.

Storage
Should be stored at room temperature in clean, cool, dry warehouse, prevent sun, rain, and not be stored with corrosive, toxic, and smelly item. With these conditions, product shelf life is 18 months. (suggestion: 5-8℃).